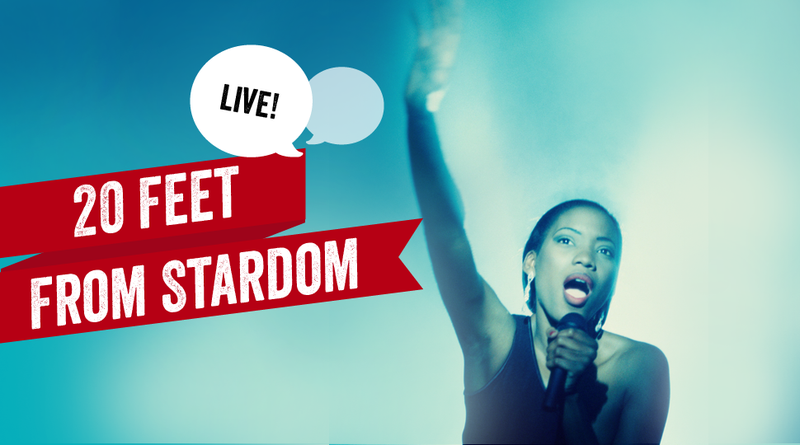 In this year's Oscar winner for Best Documentary, we watch Darlene Love recount the first time she heard, "He's Sure the Boy I Love," a song that she recorded after signing with Phil Spector as a solo artist, on the radio. "I'm tootling down the street and I hear the DJ on the radio and he said, 'the new song by The Crystals'...No, it was my voice on 'He's Sure the Boy I Love,' and I was pissed."
Darlene Love's anger at having her song credited to another group without her permission was not uncommon in the heyday of Phil Spector's wall of sound music machine — prefab groups were often given songs recorded by session musicians to lip-sync on television and on tour, and to release for radio play — but that doesn't make it right. Love's story is just one of many featured in in 20 Feet From Stardom, which explores the gut-wrenching sadness and injustice that backup singers experienced in the music business.
Despite touring with artists from Luther Vandross to Bruce Springsteen, none of the women featured in the documentary have experienced consistent solo success. Even relative newcomer Judith Hill, who had a brief moment of viral fame after performing "Heal the World" at Michael Jackson's memorial service, has had to continue singing backup to make ends meet. Perhaps most poignant is the revelation that former Ikette Claudia Lennear doesn't sing at all anymore — after her solo efforts flopped, she went to work as a high school Spanish teacher, for students who have no idea of her storied past.
That's not to say that this story is a tragedy. For every beautiful voice no longer being heard, or blending into the background, there are stories of back up singers experiencing both large and small successes. Love herself was inducted into the Rock and Roll Hall of Fame, which not only validated her contribution to music, but also validated that of the other back up singers featured in the documentary.
Perhaps even more of an achievement than giving these powerful women the recognition and exposure they deserve is the fact that 20 Feet From Stardom asks the audience to change the way they listen to some of the most seminal songs in the rock & roll canon, and succeeds. Rather than just an anonymous voice singing with such power alongside Mick Jagger on "Gimme Shelter," the film asks the audience to hear the voice of Merry Clayton, or later, of Lisa Fischer, who has sung the part with on tour with The Stones since 1989. Once I started hearing, and really listening to, all of the voices on these iconic songs, I got chills all over my body — it's overwhelming to realize that even as someone who has been passionate about music my whole life, I wasn't really hearing.
What about you? Did 20 Feet From Stardom change the way you think about back up singers? What about music history as a whole? Which of the performances in the film affected you the most? Do you think the film is an account of a historical moment that has passed, or did more contemporary stories like Judith Hill's make you feel as though nothing has changed?
Documentary Club is a recurring feature in which we watch and discuss the finest documentaries available to stream on Netflix — together, as a family. Join us, won't you? For more, head to netflix.kinja.com.

Maud Deitch is a Senior Content Producer at Studio@Gawker. She has written for SPIN, The FADER, MTV.com and other publications.
This post is a sponsored collaboration between Netflix and Studio@Gawker.