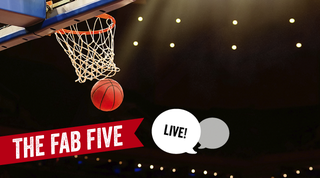 In this year's NCAA championships, University of Kentucky's starting lineup drew comparisons to The Fab Five, the players featured in the ESPN documentary about the 1991 University of Michigan starting lineup, and it wasn't just because it was also largely made up of freshman.
While this team won't likely have the cultural impact of the the Fab Five, it's said that they may actually surpass them in terms of victories. Is their success a result of learning from the past? It seems likely that this had at least something to do with it, especially since two of the players said they were fans of the documentary — one claims to have seen it ten times and the other watches it when he can't fall asleep at night.
The Fab Five unflinchingly covers the events that made that year and that team so tumultuous: upperclassmen starters being unseated by five freshmen, racist letters sent by Michigan alumni, the Jalen Rose "crack house" incident, the Chris Webber timeout, the college basketball sanctions, the rivalry with Duke.
The film's greatest achievement, in my opinion, isn't its portrayal of the Fab Five's triumphs and failures, but their brotherhood, forged in the midst of athletic, academic, and cultural turmoil. It's not all personal, though. Through the Fab Five's story, the film addresses wider issues concerning sports and society, things still relevant today: compensation for college athletes, class, race, and the importance of athletes' past lives to their careers.
Why are we still asking many of the same questions, twenty years later? If the Fab Five were a team today, would they have the same impact on college basketball? How do you think new freshman starting lineups measure up compared to the Fab Five?
Documentary Club is a recurring feature in which we watch and discuss the finest documentaries available to stream on Netflix — together, as a family. Join us, won't you? For more Netflix, head to netflix.kinja.com.

Felix Huang is a LA-based writer. His work often appears in Dime Magazine.
This post is a sponsored collaboration between Netflix and Studio@Gawker.