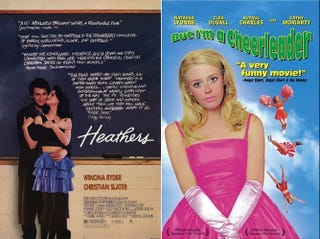 Like every genre, the teen movie has its tropes: expect a certain levity, a likable vulgarity, and stakes that never get too high. But there are also teen flicks that take the typical lighthearted markers of high school comedies and turn them on their head, doing something darker, more subversive, and ultimately meaner.
This week's Double Feature includes two of the blackest, cruelest teen movies out there — the cult classics Heathers (1988) and But I'm A Cheerleader (1999).
Heathers has carved out a space in cinematic history as the film to beat for bleakly pessimistic depictions of high school castes: the film stars a young Winona Ryder as Veronica Sawyer, the lone girl who isn't named Heather in her clique of popular girls. Her love interest JD (Christian Slater) is a sociopath intent on killing his classmates and covering the murders up to look like suicides.
School shootings, vicious slayings and bomb threats ensue with a giddy recklessness that feels all the more chilling given the rash of in-school violence that's defined the last decade. And yet, dark as it is, it's an eminently likable film, bolstered by Ryder's doe-eyed charisma and hyper-quotable slang.
But I'm a Cheerleader never got the critical acclaim that's made Heathers so iconic, and objectively, it's just not as good of a movie — the characters tend toward one-dimensionality and it doesn't pack much emotional punch, especially fifteen years after its release, but it feels aligned with Heathers in its eerie surreality and campy unselfconsciousness.
Natasha Lyonne plays suburban teenager Megan, a cheerleader whose parents send her to a reparative therapy camp after suspecting that she's a lesbian; there, she meets a cast of sexually diverse characters and (of course) falls in love with a fellow patient, the brooding Graham (Clea Duvall).
Like Heathers, it has a certain kitsch value — the brightly colored sets and costumes, in particular, have a John Waters-lite hypersaturation that's a delight to watch — but mostly, these movies go together because they highlight just how grim adolescence truly is, popularity be damned. High school is hell, and these movies, each in their own way, provide a salient reminder of why.
Get more Netflix at netflix.kinja.com.
Sam Lansky is a writer and editor from New York City.
[Photo Credit: New World Pictures/Lions Gate]