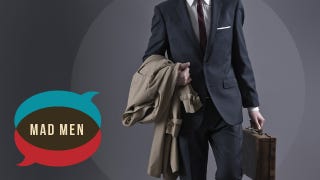 He wears a suit like Cary Grant, can make a room of grown men tear up over a slide projector, and he does not want your "Zou Bisou Bisou." He's Don Draper, the adman everyone loves to hate and hates to love. (Caution: there are a couple of spoilers in this post.)
In the midst of the turmoil of the 1960's, admen like Don Draper were trying to figure out what people really wanted. But when it comes to Mad Men's main man — who has more or less remained the same dishonorable, albeit charming, rogue he was when we first met him — there is a divide among fans: is Don Draper a strong, creative character, or just an empty suit?
The Netflix Debate Club is a weekly Kinja debate where writers face off about the most polarizing aspects of their favorite shows — and want you to join in.
THIS WEEK'S TV SERIES: Mad Men (2007 - present)
THE DEBATERS: Hazel Cills (Rookie) & Sean T. Collins (Rolling Stone)
Hazel (CON DON): As Mad Men enters its final season, Don Draper is still exactly who he was in the premiere: selfish, lying, and probably napping. He's a frustratingly static character, and his inability to change makes me wonder why he's the show's centerpiece.
Mad Men's story lines linger too long on Don hurting people, rather than the people he hurts, who arguably offer more interesting narratives. Joan and Peggy, for example, are the show's most compelling characters, only getting more fearless as they move up in office rank — maybe they should be the central characters on the show. Last season, Sally said, "My father's never given me anything." I don't think he's given audiences that much either, Sally. (But we sure want more of you, Sally Draper.)
Sean (PRO DON): You say all this like it's a bad thing! But that's the point of the show, no? Don was the man for his time and place, but time is passing him by. It's precisely his inability to truly change that make his various coping mechanisms — his genuine creative genius; his briefly fruitful marriage to Megan; his mournful fixation on his abandoned past; his alternately cooperative and destructive work partnerships, particularly with his protégé Peggy — so fascinating. Or maybe I'm just a sucker for seeing strong men cry now and then.
Let's get into it. Do you agree with Hazel that there's too much Don in our lives? Or are you with Sean, who thinks that old Dick Whitman helps us see the characters around him more clearly? Take to the comments to discuss all things Don Draper, and Mad Men in general, now.
(To catch up on last six seasons of Mad Men, head here. And get more Netflix at netflix.kinja.com.)
This post is a sponsored collaboration between Netflix and Studio@Gawker.